JMP Group LLC (JMP) Set to Announce Quarterly Earnings on Wednesday
JMP Group LLC (NYSE:JMP) will be announcing its earnings results after the market closes on Wednesday, November 1st. Analysts expect the company to announce earnings of $0.06 per share for the quarter.
JMP Group (NYSE:JMP) last released its quarterly earnings data on Tuesday, August 1st. The financial services provider reported $0.03 EPS for the quarter, topping the consensus estimate of ($0.01) by $0.04. JMP Group had a negative net margin of 10.35% and a positive return on equity of 1.52%. The business had revenue of $23.14 million for the quarter, compared to analyst estimates of $25.20 million. On average, analysts expect JMP Group to post $0.32 EPS for the current fiscal year and $0.45 EPS for the next fiscal year.
JMP Group LLC (NYSE:JMP) traded down 1.770% during midday trading on Tuesday, hitting $5.383. 15,874 shares of the company traded hands. JMP Group LLC has a 12-month low of $5.20 and a 12-month high of $7.70. The stock has a 50 day moving average of $5.51 and a 200 day moving average of $5.49. The stock's market cap is $115.93 million.
The company also recently announced a monthly dividend, which will be paid on Wednesday, November 15th. Investors of record on Tuesday, October 31st will be issued a dividend of $0.03 per share. This represents a $0.36 dividend on an annualized basis and a yield of 6.57%. The ex-dividend date is Monday, October 30th. JMP Group's payout ratio is currently -66.67%.
A number of research analysts recently issued reports on JMP shares. Zacks Investment Research raised JMP Group from a "sell" rating to a "hold" rating in a report on Tuesday, August 15th. Keefe, Bruyette & Woods started coverage on JMP Group in a research report on Monday, October 16th. They issued a "mkt perform" rating and a $5.75 price target for the company.
TRADEMARK VIOLATION NOTICE: This news story was reported by TheOlympiaReport and is the property of of TheOlympiaReport. If you are accessing this news story on another domain, it was stolen and republished in violation of international copyright and trademark laws. The original version of this news story can be read at https://theolympiareport.com/2017/10/31/jmp-group-llc-jmp-set-to-announce-quarterly-earnings-on-wednesday.html.
In related news, Director Glenn H. Tongue purchased 10,000 shares of the firm's stock in a transaction that occurred on Thursday, August 3rd. The stock was acquired at an average price of $5.41 per share, for a total transaction of $54,100.00. Following the transaction, the director now directly owns 155,652 shares of the company's stock, valued at approximately $842,077.32. The acquisition was disclosed in a document filed with the Securities & Exchange Commission, which is accessible through this hyperlink. Company insiders own 52.11% of the company's stock.
About JMP Group
JMP Group LLC, formerly JMP Group, Inc, is a full-service investment banking and asset management firm. The Company operates in five segments: Broker-Dealer, Asset Management, Corporate Credit, Investment Income and Corporate Costs. The Broker-Dealer segment includes a range of services, such as underwriting and acting as a placement agent for public and private capital markets raising transactions and financial advisory services in mergers and acquisitions, restructuring and other strategic transactions.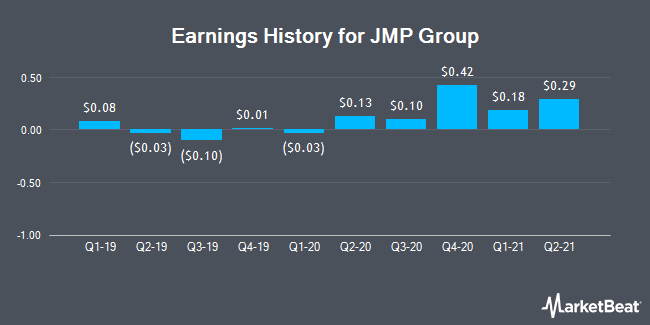 Receive News & Ratings for JMP Group LLC Daily - Enter your email address below to receive a concise daily summary of the latest news and analysts' ratings for JMP Group LLC and related companies with Analyst Ratings Network's FREE daily email newsletter.