Welbilt Inc (WBT) Expected to Post Earnings of $0.25 Per Share
Wall Street analysts predict that Welbilt Inc (NYSE:WBT) will report earnings per share of $0.25 for the current quarter, according to Zacks Investment Research. Four analysts have provided estimates for Welbilt's earnings, with the lowest EPS estimate coming in at $0.22 and the highest estimate coming in at $0.28. Welbilt posted earnings per share of $0.16 in the same quarter last year, which would suggest a positive year-over-year growth rate of 56.3%. The firm is scheduled to report its next earnings report on Wednesday, February 21st.
According to Zacks, analysts expect that Welbilt will report full year earnings of $0.78 per share for the current financial year, with EPS estimates ranging from $0.74 to $0.80. For the next financial year, analysts expect that the company will post earnings of $0.94 per share, with EPS estimates ranging from $0.85 to $1.00. Zacks' EPS calculations are an average based on a survey of research analysts that follow Welbilt.
Welbilt (NYSE:WBT) last posted its earnings results on Monday, November 6th. The industrial products company reported $0.23 earnings per share for the quarter, missing analysts' consensus estimates of $0.24 by ($0.01). The company had revenue of $380.40 million for the quarter, compared to analysts' expectations of $387.05 million. Welbilt had a negative return on equity of 2,645.52% and a net margin of 6.14%. The business's quarterly revenue was down .9% compared to the same quarter last year.
A number of research firms have weighed in on WBT. Longbow Research began coverage on Welbilt in a report on Tuesday, October 10th. They set a "neutral" rating for the company. Barclays began coverage on Welbilt in a report on Tuesday, December 12th. They set an "overweight" rating and a $25.00 target price for the company. KeyCorp restated a "buy" rating and set a $25.00 target price on shares of Welbilt in a report on Thursday, October 12th. Zacks Investment Research lowered Welbilt from a "buy" rating to a "hold" rating in a report on Wednesday, October 18th. Finally, Citigroup increased their price objective on Welbilt from $20.00 to $24.00 and gave the company a "neutral" rating in a report on Friday, October 13th. Four investment analysts have rated the stock with a hold rating and three have issued a buy rating to the company's stock. The stock has a consensus rating of "Hold" and an average target price of $23.17.
Institutional investors and hedge funds have recently modified their holdings of the company. Metropolitan Life Insurance Co. NY purchased a new stake in shares of Welbilt during the 1st quarter valued at $115,000. Atlantic Trust Group LLC acquired a new position in shares of Welbilt in the 3rd quarter valued at $1,111,000. Finally, Capital Research Global Investors increased its position in shares of Welbilt by 91.3% in the 2nd quarter. Capital Research Global Investors now owns 3,000,000 shares of the industrial products company's stock valued at $56,550,000 after acquiring an additional 1,431,642 shares during the period. Hedge funds and other institutional investors own 91.10% of the company's stock.
Welbilt (WBT) traded up $0.19 during trading on Friday, reaching $22.91. The company's stock had a trading volume of 419,170 shares, compared to its average volume of 809,835. The company has a debt-to-equity ratio of 29.38, a quick ratio of 0.79 and a current ratio of 1.35. The stock has a market capitalization of $3,168.20, a price-to-earnings ratio of 35.80, a P/E/G ratio of 2.92 and a beta of 2.05. Welbilt has a one year low of $17.55 and a one year high of $23.46.
WARNING: This story was first posted by TheOlympiaReport and is the property of of TheOlympiaReport. If you are accessing this story on another publication, it was copied illegally and reposted in violation of international copyright laws. The legal version of this story can be viewed at https://theolympiareport.com/2017/12/23/welbilt-inc-wbt-expected-to-post-earnings-of-0-25-per-share.html.
Welbilt Company Profile
Welbilt, Inc, formerly Manitowoc Foodservice, Inc, is a commercial foodservice equipment company. The Company designs, manufactures and supplies food and beverage equipment for the global commercial foodservice market, offering customers operator and patron insights, kitchen solutions, culinary expertise, and implementation support and service.
Get a free copy of the Zacks research report on Welbilt (WBT)
For more information about research offerings from Zacks Investment Research, visit Zacks.com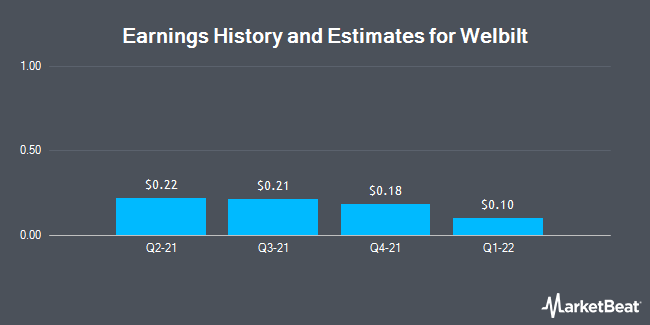 Receive News & Ratings for Welbilt Daily - Enter your email address below to receive a concise daily summary of the latest news and analysts' ratings for Welbilt and related companies with MarketBeat.com's FREE daily email newsletter.