Credit Suisse Group Trims AA (AA) Target Price to GBX 125
AA (LON:AA) had its price objective trimmed by Credit Suisse Group from GBX 140 ($1.93) to GBX 125 ($1.73) in a research report sent to investors on Friday morning. The firm currently has an underperform rating on the stock.
Several other equities analysts have also recently issued reports on the stock. Liberum Capital restated a buy rating and set a GBX 250 ($3.45) target price on shares of AA in a research note on Thursday. Barclays lowered their target price on shares of AA from GBX 270 ($3.73) to GBX 200 ($2.76) and set an overweight rating on the stock in a research note on Thursday, January 18th. Finally, Berenberg Bank cut shares of AA to a hold rating and lowered their target price for the company from GBX 315 ($4.35) to GBX 170 ($2.35) in a research note on Thursday, October 12th. Two research analysts have rated the stock with a sell rating, one has issued a hold rating and three have issued a buy rating to the company's stock. AA presently has a consensus rating of Hold and an average target price of GBX 203.33 ($2.81).
AA (LON:AA) traded down GBX 2.20 ($0.03) on Friday, reaching GBX 117.10 ($1.62). 6,425,431 shares of the company's stock traded hands, compared to its average volume of 3,910,000. The company has a market cap of $732.78 and a PE ratio of 731.88. AA has a 1-year low of GBX 115.85 ($1.60) and a 1-year high of GBX 274.20 ($3.79).
ILLEGAL ACTIVITY WARNING: This report was originally reported by TheOlympiaReport and is the property of of TheOlympiaReport. If you are viewing this report on another site, it was copied illegally and republished in violation of US and international trademark & copyright laws. The correct version of this report can be viewed at https://theolympiareport.com/2018/02/12/credit-suisse-group-trims-aa-aa-target-price-to-gbx-125.html.
About AA
AA plc (AA) offers roadside assistance service. The Company's segments include Roadside Assistance, Insurance Services, Driving Services, Ireland, Insurance Underwriting and Head Office costs. The Roadside Assistance segment sends patrols to members stranded at the side of the road and repairs their vehicles.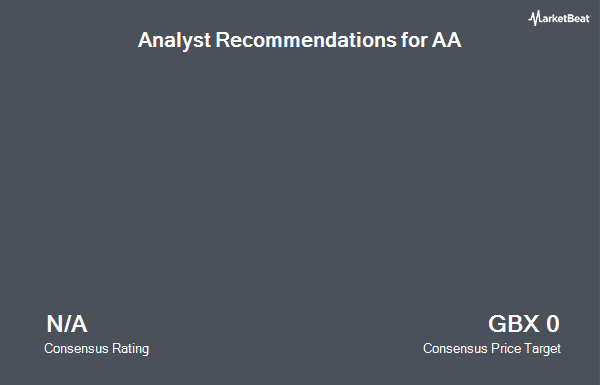 Receive News & Ratings for AA Daily - Enter your email address below to receive a concise daily summary of the latest news and analysts' ratings for AA and related companies with MarketBeat.com's FREE daily email newsletter.