SunPower (SPWR) to Release Quarterly Earnings on Wednesday
SunPower (NASDAQ:SPWR) is scheduled to post its quarterly earnings results before the market opens on Wednesday, February 14th. Analysts expect SunPower to post earnings of $0.12 per share for the quarter.
Shares of SunPower (NASDAQ SPWR) opened at $6.89 on Tuesday. The firm has a market cap of $961.65, a PE ratio of -1.71 and a beta of 2.73. The company has a quick ratio of 1.02, a current ratio of 1.41 and a debt-to-equity ratio of 1.71. SunPower has a fifty-two week low of $5.84 and a fifty-two week high of $11.70.
In other news, Director Catherine A. Lesjak sold 23,632 shares of the stock in a transaction that occurred on Wednesday, December 6th. The shares were sold at an average price of $7.50, for a total transaction of $177,240.00. Following the sale, the director now owns 55,924 shares in the company, valued at $419,430. The transaction was disclosed in a filing with the SEC, which is available at this link. Corporate insiders own 0.92% of the company's stock.
A number of equities research analysts have weighed in on the stock. Credit Suisse Group assumed coverage on shares of SunPower in a report on Monday. They issued a "neutral" rating and a $7.20 price objective on the stock. Robert W. Baird upgraded shares of SunPower from a "neutral" rating to an "outperform" rating and upped their price objective for the stock from $7.00 to $10.00 in a report on Monday, December 11th. BidaskClub upgraded shares of SunPower from a "hold" rating to a "buy" rating in a report on Tuesday, December 19th. Bank of America assumed coverage on shares of SunPower in a report on Saturday, December 30th. They issued a "neutral" rating on the stock. Finally, Guggenheim restated a "hold" rating on shares of SunPower in a report on Thursday, January 18th. Three investment analysts have rated the stock with a sell rating, six have issued a hold rating and five have assigned a buy rating to the company's stock. SunPower presently has a consensus rating of "Hold" and a consensus target price of $9.97.
COPYRIGHT VIOLATION WARNING: This piece of content was originally posted by TheOlympiaReport and is the property of of TheOlympiaReport. If you are viewing this piece of content on another website, it was stolen and republished in violation of international copyright and trademark laws. The correct version of this piece of content can be read at https://theolympiareport.com/2018/02/13/sunpower-spwr-to-release-quarterly-earnings-on-wednesday.html.
About SunPower
SunPower Corporation is a global energy company. The Company delivers complete solar solutions to residential, commercial, and power plant customers. The Company's segments include Residential Segment, Commercial Segment and Power Plant Segment. The Residential and Commercial Segments combined are referred to as Distributed Generation.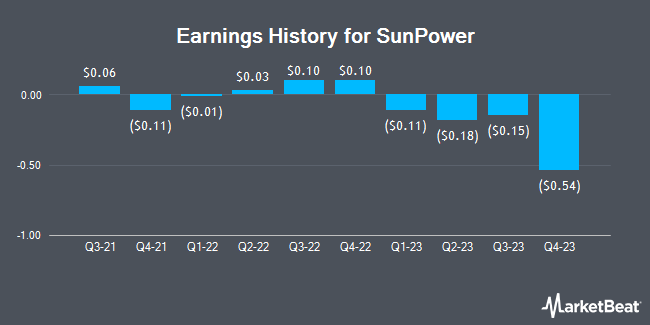 Receive News & Ratings for SunPower Daily - Enter your email address below to receive a concise daily summary of the latest news and analysts' ratings for SunPower and related companies with MarketBeat.com's FREE daily email newsletter.