ACCO Brands (ACCO) Posts Earnings Results, Beats Expectations By $0.04 EPS
ACCO Brands (NYSE:ACCO) issued its quarterly earnings results on Wednesday. The industrial products company reported $0.48 EPS for the quarter, topping analysts' consensus estimates of $0.44 by $0.04, Briefing.com reports. ACCO Brands had a return on equity of 15.99% and a net margin of 3.51%. The firm had revenue of $566.80 million for the quarter, compared to analysts' expectations of $563.27 million. During the same period in the previous year, the firm posted $0.32 EPS. The business's revenue for the quarter was up 29.5% compared to the same quarter last year. ACCO Brands updated its FY18 guidance to $1.33-1.37 EPS.
ACCO Brands (NYSE ACCO) traded up $1.87 during mid-day trading on Wednesday, reaching $13.02. The company had a trading volume of 1,092,079 shares, compared to its average volume of 482,954. The company has a market cap of $1,188.04, a PE ratio of 22.41, a PEG ratio of 0.89 and a beta of 1.34. ACCO Brands has a fifty-two week low of $10.35 and a fifty-two week high of $14.75. The company has a debt-to-equity ratio of 1.39, a current ratio of 1.70 and a quick ratio of 1.09.
ACCO Brands declared that its board has initiated a stock repurchase plan on Wednesday, February 14th that allows the company to repurchase $100.00 million in outstanding shares. This repurchase authorization allows the industrial products company to repurchase shares of its stock through open market purchases. Shares repurchase plans are generally a sign that the company's management believes its stock is undervalued.
ACCO has been the topic of a number of analyst reports.
Zacks Investment Research
raised ACCO Brands from a "hold" rating to a "buy" rating and set a $15.00 price target on the stock in a research report on Tuesday, October 31st. SunTrust Banks reissued a "hold" rating and issued a $13.00 price target on shares of ACCO Brands in a research report on Wednesday, November 1st. Two investment analysts have rated the stock with a hold rating and three have given a buy rating to the stock. The company has a consensus rating of "Buy" and an average price target of $15.00.
COPYRIGHT VIOLATION NOTICE: This article was first reported by TheOlympiaReport and is owned by of TheOlympiaReport. If you are reading this article on another site, it was illegally stolen and reposted in violation of U.S. and international copyright legislation. The original version of this article can be viewed at https://theolympiareport.com/2018/02/14/acco-brands-acco-posts-earnings-results-beats-expectations-by-0-04-eps.html.
ACCO Brands Company Profile
ACCO Brands Corporation is engaged in designing, marketing and manufacturing of branded business, academic and selected consumer products. The Company operates through three segments: ACCO Brands North America, ACCO Brands International and Computer Products Group. The Company's brands include Artline, AT-A-GLANCE, Derwent, Esselte, Five Star, GBC, Hilroy, Kensington, Leitz, Marbig, Mead, NOBO, Quartet, Rapid, Rexel, Swingline, Tilibra and Wilson Jones.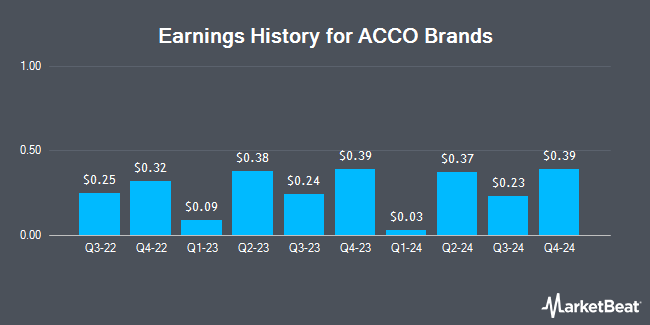 Receive News & Ratings for ACCO Brands Daily - Enter your email address below to receive a concise daily summary of the latest news and analysts' ratings for ACCO Brands and related companies with MarketBeat.com's FREE daily email newsletter.