Materialise (MTLS) to Release Earnings on Thursday
Materialise (NASDAQ:MTLS) will be releasing its earnings data on Thursday, February 22nd. Analysts expect Materialise to post earnings of $0.02 per share for the quarter.
Materialise (NASDAQ MTLS) opened at $11.90 on Thursday. The company has a quick ratio of 1.69, a current ratio of 1.86 and a debt-to-equity ratio of 0.61. The stock has a market cap of $578.23, a PE ratio of -170.00, a price-to-earnings-growth ratio of 3.01 and a beta of 1.63. Materialise has a twelve month low of $7.90 and a twelve month high of $16.50.
Several brokerages have issued reports on MTLS. BidaskClub raised shares of Materialise from a "sell" rating to a "hold" rating in a report on Thursday, January 11th. Zacks Investment Research cut shares of Materialise from a "buy" rating to a "hold" rating in a report on Thursday, November 16th. Finally, KeyCorp reaffirmed a "buy" rating and issued a $18.00 target price on shares of Materialise in a report on Friday, November 10th. One investment analyst has rated the stock with a sell rating, one has assigned a hold rating and three have given a buy rating to the stock. The stock currently has an average rating of "Hold" and an average price target of $16.75.
TRADEMARK VIOLATION WARNING: This article was originally published by TheOlympiaReport and is the property of of TheOlympiaReport. If you are viewing this article on another publication, it was illegally copied and reposted in violation of United States and international copyright & trademark laws. The original version of this article can be read at https://theolympiareport.com/2018/02/15/materialise-mtls-to-release-earnings-on-thursday.html.
About Materialise
Materialise NV is a Belgium-based company engaged in the software industry. The Company is a provider of additive manufacturing software and of three dimensional (3D) printing services. Materialise NV incorporates of 3D printing experience into a range of software solution and 3D printing services, through which the Company seeks to form the backbone of the 3D printing industry.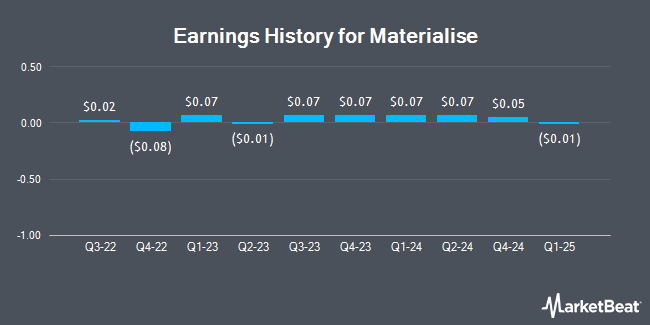 Receive News & Ratings for Materialise Daily - Enter your email address below to receive a concise daily summary of the latest news and analysts' ratings for Materialise and related companies with MarketBeat.com's FREE daily email newsletter.