Orthofix (OFIX) Set to Announce Quarterly Earnings on Monday

Orthofix (NASDAQ:OFIX) is scheduled to be issuing its quarterly earnings data after the market closes on Monday, April 30th. Analysts expect the company to announce earnings of $0.36 per share for the quarter. Orthofix has set its FY18 guidance at $1.76-1.84 EPS.
Orthofix (NASDAQ:OFIX) last announced its quarterly earnings data on Monday, February 26th. The medical device company reported $0.52 earnings per share for the quarter, beating the Thomson Reuters' consensus estimate of $0.50 by $0.02. Orthofix had a net margin of 1.43% and a return on equity of 10.66%. The business had revenue of $116.90 million for the quarter, compared to analyst estimates of $116.93 million. During the same period in the prior year, the business posted $0.42 earnings per share. Orthofix's revenue was up 7.7% compared to the same quarter last year. On average, analysts expect Orthofix to post $2 EPS for the current fiscal year and $2 EPS for the next fiscal year.
Shares of NASDAQ OFIX opened at $61.37 on Friday. Orthofix has a fifty-two week low of $37.35 and a fifty-two week high of $61.48. The company has a market capitalization of $1,098.78, a P/E ratio of 36.63, a price-to-earnings-growth ratio of 3.35 and a beta of 0.24.
OFIX has been the topic of several analyst reports. Gabelli restated a "buy" rating on shares of Orthofix in a report on Wednesday, February 28th. BidaskClub upgraded shares of Orthofix from a "sell" rating to a "hold" rating in a report on Saturday, February 3rd. TheStreet raised shares of Orthofix from a "c+" rating to a "b" rating in a research note on Tuesday, March 20th. SunTrust Banks upped their target price on shares of Orthofix to $67.00 and gave the company a "buy" rating in a research note on Monday, March 5th. Finally,
ValuEngine
raised shares of Orthofix from a "hold" rating to a "buy" rating in a research note on Thursday, March 1st. One analyst has rated the stock with a hold rating and eight have given a buy rating to the company's stock. Orthofix currently has an average rating of "Buy" and an average price target of $57.42.
Orthofix Company Profile
Orthofix International N.V., a medical device company, provides musculoskeletal healing products and value-added services worldwide. It operates through four segments: BioStim, Extremity Fixation, Spine Fixation, and Biologics. The BioStim segment manufactures, distributes, and provides support services for bone growth stimulator devices that enhance bone fusion and are indicated as treatment to enhance fusion success rates in cervical and lumbar spine, as well as a therapeutic treatment for non-spine fractures.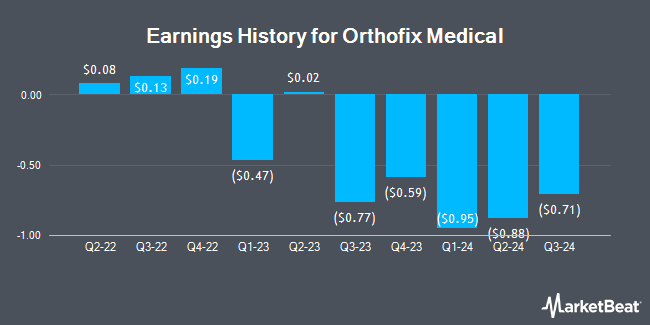 Receive News & Ratings for Orthofix Daily - Enter your email address below to receive a concise daily summary of the latest news and analysts' ratings for Orthofix and related companies with MarketBeat.com's FREE daily email newsletter.