FFBW Inc (FFBW) Insider Purchases $11,300.00 in Stock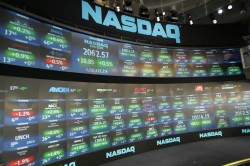 FFBW Inc (NASDAQ:FFBW) insider Edward H. Schaefer bought 1,000 shares of the company's stock in a transaction that occurred on Friday, August 10th. The stock was purchased at an average price of $11.30 per share, for a total transaction of $11,300.00. The purchase was disclosed in a document filed with the SEC, which can be accessed through this hyperlink.
FFBW traded down $0.05 during trading on Friday, hitting $11.20. The stock had a trading volume of 231 shares, compared to its average volume of 7,073. FFBW Inc has a 12 month low of $10.30 and a 12 month high of $12.50. The company has a current ratio of 1.18, a quick ratio of 1.18 and a debt-to-equity ratio of 0.64.
A hedge fund recently raised its stake in FFBW stock. Commonwealth Equity Services LLC increased its position in FFBW Inc (NASDAQ:FFBW) by 31.7% during the 2nd quarter, according to its most recent filing with the Securities and Exchange Commission (SEC). The firm owned 27,000 shares of the company's stock after acquiring an additional 6,500 shares during the quarter. Commonwealth Equity Services LLC owned about 0.41% of FFBW worth $299,000 at the end of the most recent quarter. 3.16% of the stock is currently owned by institutional investors.
About FFBW
FFBW, Inc is the holding company of First Federal Bank of Wisconsin (the Bank). First Federal Bank of Wisconsin is a federally chartered mutual savings bank. The Bank's business consists primarily of taking deposits from the general public and investing those deposits, together with funds generated from operations, in one-to four-family residential owner-occupied real estate loans, one-to four-family residential investor-owned real estate loans, multifamily loans and commercial real estate loans, and, to a lesser extent, commercial and industrial loans, commercial development loans and consumer loans.
See Also: Diversification
Receive News & Ratings for FFBW Daily - Enter your email address below to receive a concise daily summary of the latest news and analysts' ratings for FFBW and related companies with MarketBeat.com's FREE daily email newsletter.