Pool Co. (POOL) Expected to Announce Earnings of $1.57 Per Share
Equities analysts expect Pool Co. (NASDAQ:POOL) to post earnings per share (EPS) of $1.57 for the current fiscal quarter, Zacks reports. Three analysts have made estimates for Pool's earnings. The lowest EPS estimate is $1.55 and the highest is $1.60. Pool posted earnings of $1.16 per share during the same quarter last year, which indicates a positive year over year growth rate of 35.3%. The firm is scheduled to announce its next quarterly earnings report on Thursday, October 18th.
On average, analysts expect that Pool will report full-year earnings of $5.54 per share for the current fiscal year, with EPS estimates ranging from $5.50 to $5.60. For the next financial year, analysts anticipate that the business will report earnings of $6.04 per share, with EPS estimates ranging from $5.92 to $6.15. Zacks Investment Research's earnings per share calculations are an average based on a survey of sell-side research analysts that follow Pool.
Pool (NASDAQ:POOL) last announced its quarterly earnings data on Thursday, July 19th. The specialty retailer reported $2.80 EPS for the quarter, missing the consensus estimate of $2.88 by ($0.08). The firm had revenue of $1.06 billion for the quarter. Pool had a net margin of 7.69% and a return on equity of 82.52%. The company's revenue for the quarter was up 7.0% on a year-over-year basis. During the same period in the prior year, the company earned $2.21 earnings per share.
POOL has been the subject of a number of research analyst reports.
Zacks Investment Research
raised Pool from a "hold" rating to a "buy" rating and set a $164.00 price target for the company in a research note on Monday, May 28th.
ValuEngine
raised Pool from a "hold" rating to a "buy" rating in a research note on Saturday, May 12th. BidaskClub raised Pool from a "hold" rating to a "buy" rating in a research note on Wednesday, June 13th. Berenberg Bank initiated coverage on Pool in a research note on Wednesday, June 20th. They issued a "hold" rating and a $157.00 price target for the company. Finally, Robert W. Baird lowered Pool from an "outperform" rating to a "neutral" rating and set a $131.00 price target for the company. in a research note on Tuesday, July 3rd. Three equities research analysts have rated the stock with a hold rating and four have assigned a buy rating to the company's stock. The stock presently has an average rating of "Buy" and a consensus target price of $149.60.
In other Pool news, Director John E. Stokely sold 10,000 shares of the firm's stock in a transaction on Monday, May 21st. The stock was sold at an average price of $148.44, for a total transaction of $1,484,400.00. Following the completion of the transaction, the director now owns 30,495 shares of the company's stock, valued at $4,526,677.80. The sale was disclosed in a legal filing with the Securities & Exchange Commission, which is accessible through this link. Company insiders own 6.00% of the company's stock.
Institutional investors have recently made changes to their positions in the business. NumerixS Investment Technologies Inc boosted its position in Pool by 57.1% in the second quarter. NumerixS Investment Technologies Inc now owns 1,100 shares of the specialty retailer's stock worth $167,000 after purchasing an additional 400 shares during the last quarter. Bank of Hawaii purchased a new stake in shares of Pool in the 1st quarter worth $201,000. Northwest Bancshares Inc. purchased a new stake in shares of Pool in the 1st quarter worth $209,000. Natixis purchased a new stake in shares of Pool in the 2nd quarter worth $211,000. Finally, Commerce Bank purchased a new stake in shares of Pool in the 1st quarter worth $219,000. 94.84% of the stock is owned by institutional investors and hedge funds.
Shares of NASDAQ:POOL traded up $1.11 during trading on Tuesday, reaching $160.08. 255 shares of the company traded hands, compared to its average volume of 216,773. Pool has a 52-week low of $97.25 and a 52-week high of $163.36. The firm has a market cap of $6.51 billion, a PE ratio of 40.04 and a beta of 0.84. The company has a debt-to-equity ratio of 2.03, a quick ratio of 1.15 and a current ratio of 2.64.
The company also recently disclosed a quarterly dividend, which will be paid on Tuesday, August 28th. Shareholders of record on Tuesday, August 14th will be given a dividend of $0.45 per share. This represents a $1.80 annualized dividend and a yield of 1.12%. The ex-dividend date of this dividend is Monday, August 13th. Pool's dividend payout ratio is currently 45.11%.
Pool declared that its Board of Directors has approved a stock repurchase plan on Thursday, May 3rd that permits the company to buyback $200.00 million in shares. This buyback authorization permits the specialty retailer to reacquire up to 3.5% of its shares through open market purchases. Shares buyback plans are usually a sign that the company's management believes its stock is undervalued.
About Pool
Pool Corporation distributes swimming pool supplies, equipment, and related leisure products in North America, Europe, South America, and Australia. The company offers maintenance products, including chemicals, supplies, and pool accessories; repair and replacement parts for pool equipment, such as cleaners, filters, heaters, pumps, and lights; packaged pool kits comprising walls, liners, braces, and coping for in-ground and above-ground pools; pool equipment and components for new pool construction and the remodeling of existing pools; and irrigation and landscape products consisting of irrigation system components, and professional lawn care equipment and supplies.
Featured Story: Stock Ratings and Recommendations: Understanding Analyst Upgrades and Downgrades
Get a free copy of the Zacks research report on Pool (POOL)
For more information about research offerings from Zacks Investment Research, visit Zacks.com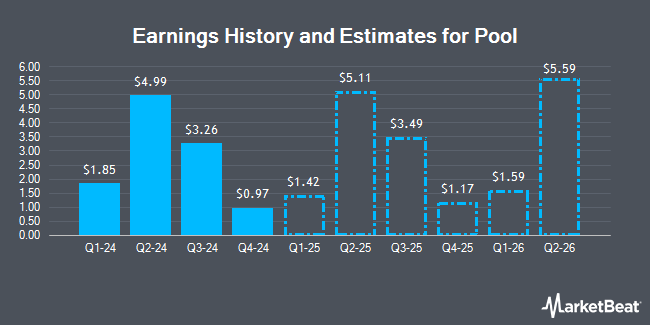 Receive News & Ratings for Pool Daily - Enter your email address below to receive a concise daily summary of the latest news and analysts' ratings for Pool and related companies with MarketBeat.com's FREE daily email newsletter.