Wirecard (WDI) Given a €185.00 Price Target at Warburg Research
Warburg Research set a €185.00 ($210.23) price objective on Wirecard (ETR:WDI) in a research report report published on Thursday morning. The brokerage currently has a buy rating on the stock.
Separately, Commerzbank set a €160.00 ($181.82) target price on Wirecard and gave the stock a buy rating in a report on Thursday. One equities research analyst has rated the stock with a sell rating, seven have given a hold rating and ten have issued a buy rating to the stock. The stock has an average rating of Buy and a consensus target price of €136.57 ($155.19).
Wirecard stock traded up €2.60 ($2.95) during mid-day trading on Thursday, hitting €178.80 ($203.18). The company had a trading volume of 728,790 shares, compared to its average volume of 582,572. Wirecard has a 12 month low of €47.90 ($54.43) and a 12 month high of €111.00 ($126.14).
Wirecard Company Profile
Wirecard AG, a technology company, provides outsourcing and white label solutions for electronic payment transactions worldwide. The company operates through three segments: Payment Processing & Risk Management, Acquiring & Issuing, and Call Center & Communication Services. The Payment Processing & Risk Management segment provides products and service for the acceptance or transactions, and the processing of electronic payments and associated processes.
See Also: Should I follow buy, hold and sell recommendations?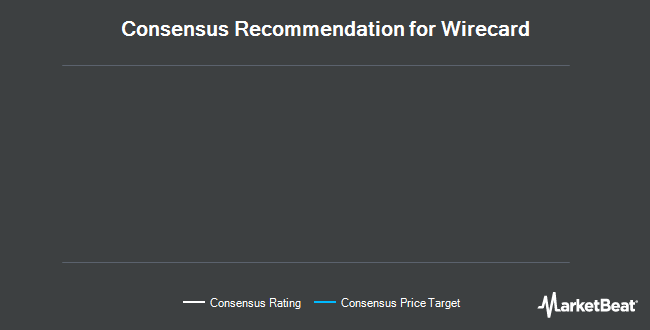 Receive News & Ratings for Wirecard Daily - Enter your email address below to receive a concise daily summary of the latest news and analysts' ratings for Wirecard and related companies with MarketBeat.com's FREE daily email newsletter.