Paramount Group Inc (PGRE) Plans Quarterly Dividend of $0.10
Paramount Group Inc (NYSE:PGRE) announced a quarterly dividend on Monday, September 17th, Wall Street Journal reports. Shareholders of record on Friday, September 28th will be given a dividend of 0.10 per share by the financial services provider on Monday, October 15th. This represents a $0.40 dividend on an annualized basis and a dividend yield of 2.56%. The ex-dividend date of this dividend is Thursday, September 27th.
Paramount Group has a payout ratio of 42.1% indicating that its dividend is sufficiently covered by earnings. Equities research analysts expect Paramount Group to earn $1.01 per share next year, which means the company should continue to be able to cover its $0.40 annual dividend with an expected future payout ratio of 39.6%.
Paramount Group stock opened at $15.63 on Tuesday. The stock has a market cap of $3.72 billion, a price-to-earnings ratio of 16.99, a PEG ratio of 5.12 and a beta of 0.67. Paramount Group has a 52-week low of $13.70 and a 52-week high of $16.61. The company has a quick ratio of 2.49, a current ratio of 2.49 and a debt-to-equity ratio of 0.71.
Paramount Group (NYSE:PGRE) last released its quarterly earnings results on Wednesday, August 1st. The financial services provider reported $0.24 earnings per share (EPS) for the quarter, beating the Zacks' consensus estimate of $0.23 by $0.01. The business had revenue of $191.40 million during the quarter, compared to the consensus estimate of $186.41 million. Paramount Group had a negative return on equity of 1.01% and a negative net margin of 6.89%. The business's quarterly revenue was up 7.7% compared to the same quarter last year. During the same period in the previous year, the company posted $0.23 EPS. sell-side analysts expect that Paramount Group will post 0.95 earnings per share for the current fiscal year.
A number of research firms have issued reports on PGRE. ValuEngine upgraded Paramount Group from a "sell" rating to a "hold" rating in a research note on Thursday, July 5th. Deutsche Bank boosted their price target on Paramount Group from $20.00 to $21.00 and gave the company a "buy" rating in a research note on Wednesday, August 29th. Finally, Zacks Investment Research upgraded Paramount Group from a "hold" rating to a "buy" rating and set a $18.00 price target for the company in a research note on Tuesday, August 21st. One analyst has rated the stock with a sell rating, four have assigned a hold rating and one has given a buy rating to the company. The stock presently has a consensus rating of "Hold" and an average price target of $16.70.
Paramount Group Company Profile
Headquartered in New York City, Paramount Group, Inc is a fully-integrated real estate investment trust that owns, operates, manages, acquires and redevelops high-quality, Class A office properties located in select central business district submarkets of New York City, Washington, DC and San Francisco.
Further Reading: Diversification in Investing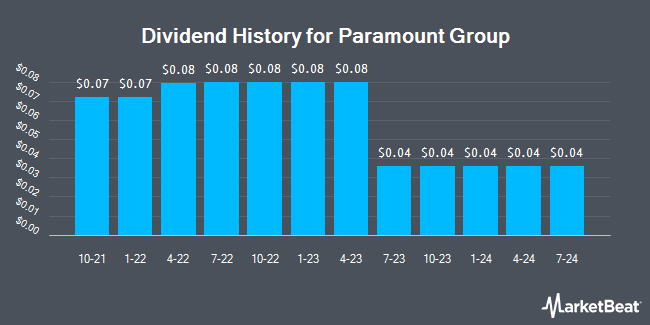 Receive News & Ratings for Paramount Group Daily - Enter your email address below to receive a concise daily summary of the latest news and analysts' ratings for Paramount Group and related companies with MarketBeat.com's FREE daily email newsletter.