Insider Selling: Opiant Pharmaceuticals Inc (OPNT) CEO Sells 10,847 Shares of Stock
Opiant Pharmaceuticals Inc (NASDAQ:OPNT) CEO Roger Crystal sold 10,847 shares of the stock in a transaction on Tuesday, October 9th. The shares were sold at an average price of $17.21, for a total transaction of $186,676.87. The sale was disclosed in a document filed with the Securities & Exchange Commission, which is accessible through the SEC website.
Roger Crystal also recently made the following trade(s):
On Thursday, October 4th, Roger Crystal sold 18,450 shares of Opiant Pharmaceuticals stock. The shares were sold at an average price of $18.11, for a total transaction of $334,129.50.
Shares of OPNT stock opened at $17.14 on Friday. The firm has a market capitalization of $53.27 million, a PE ratio of 5.61 and a beta of 0.18. Opiant Pharmaceuticals Inc has a 52-week low of $12.75 and a 52-week high of $48.00.
Opiant Pharmaceuticals (NASDAQ:OPNT) last announced its earnings results on Thursday, August 9th. The technology company reported ($0.52) earnings per share (EPS) for the quarter, topping analysts' consensus estimates of ($1.07) by $0.55. The business had revenue of $3.15 million during the quarter, compared to analysts' expectations of $2.10 million. Opiant Pharmaceuticals had a negative net margin of 449.52% and a negative return on equity of 471.43%. Sell-side analysts forecast that Opiant Pharmaceuticals Inc will post -5.4 earnings per share for the current year.
A number of brokerages have recently issued reports on OPNT. Cantor Fitzgerald set a $42.00 price objective on shares of Opiant Pharmaceuticals and gave the company a "buy" rating in a research note on Thursday, October 4th. ValuEngine cut shares of Opiant Pharmaceuticals from a "buy" rating to a "hold" rating in a research note on Saturday, July 28th.
A hedge fund recently bought a new stake in Opiant Pharmaceuticals stock. Northern Trust Corp bought a new position in shares of Opiant Pharmaceuticals Inc (NASDAQ:OPNT) in the second quarter, according to the company in its most recent filing with the SEC. The firm bought 24,372 shares of the technology company's stock, valued at approximately $350,000. Northern Trust Corp owned approximately 0.86% of Opiant Pharmaceuticals as of its most recent SEC filing. Institutional investors own 4.76% of the company's stock.
About Opiant Pharmaceuticals
Opiant Pharmaceuticals, Inc, a specialty pharmaceutical company, develops pharmacological treatments for substance use, addictive and eating disorders. The company offers NARCAN nasal spray, a treatment to reverse opioid overdoses. Its pipeline of product candidates includes treatments for eating disorders, including bulimia nervosa and binge eating disorders, alcohol use disorders, a long term treatment to prevent relapse for patients with opioid use disorders, cocaine use disorders, and a heroin vaccine.
Further Reading: How is inflation measured?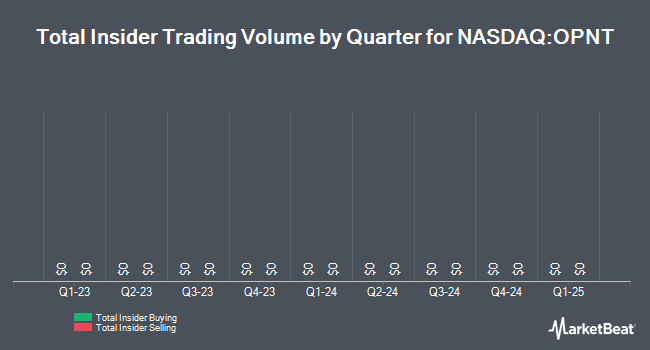 Receive News & Ratings for Opiant Pharmaceuticals Daily - Enter your email address below to receive a concise daily summary of the latest news and analysts' ratings for Opiant Pharmaceuticals and related companies with MarketBeat.com's FREE daily email newsletter.