HC Wainwright Reaffirms "Buy" Rating for Golden Queen Mining (GQMNF)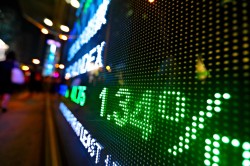 HC Wainwright reiterated their buy rating on shares of Golden Queen Mining (OTCMKTS:GQMNF) in a research report released on Friday morning.
"We also highlight that lower mining costs and a higher production profile resulted in a slightly improved $1.2 million loss from mine operations in 3Q18, compared to an $1.8 million loss in 3Q17. That said, a $1.0 million YoY decline in the gain on derivatives contracts contributed to the slight YoY decline in attributable earnings. We view the firm's results as encouraging, since the company was able to report higher revenue amid an improved loss from mine operations despite the significant decline in metals prices. We highlight that operations have continued to improve, which we believe should position the firm well to generate improved earnings and cash flow once metals prices rebound."," the firm's analyst wrote.
GQMNF stock traded up $0.02 during midday trading on Friday, hitting $0.12. The company had a trading volume of 19,901 shares, compared to its average volume of 137,517. Golden Queen Mining has a 52 week low of $0.10 and a 52 week high of $0.23.
About Golden Queen Mining
Golden Queen Mining Co Ltd. engages in the operation of gold and silver properties in the United States. It primarily holds interest in the Soledad Mountain project located in the Mojave mining district in Kern County, California. Golden Queen Mining Co Ltd. was founded in 1985 and is based in Vancouver, Canada.
Recommended Story: How Investors Use a Balance Sheet
Receive News & Ratings for Golden Queen Mining Daily - Enter your email address below to receive a concise daily summary of the latest news and analysts' ratings for Golden Queen Mining and related companies with MarketBeat.com's FREE daily email newsletter.