Royal Dutch Shell plc ADR (RDS.A) Given Average Rating of "Hold" by Brokerages
Shares of Royal Dutch Shell plc ADR (NYSE:RDS.A) have been given an average recommendation of "Hold" by the seventeen research firms that are covering the firm, Marketbeat reports. One equities research analyst has rated the stock with a sell rating, eight have given a hold rating and eight have assigned a buy rating to the company. The average 1-year target price among analysts that have issued a report on the stock in the last year is $82.33.
Several analysts recently weighed in on the company. Citigroup raised Royal Dutch Shell from a "sell" rating to a "neutral" rating in a research note on Wednesday, October 3rd. Raymond James raised Royal Dutch Shell from a "market perform" rating to an "outperform" rating in a research note on Thursday, July 19th. Wolfe Research assumed coverage on Royal Dutch Shell in a research note on Friday, September 28th. They issued an "outperform" rating and a $88.00 price objective on the stock. Jefferies Financial Group reaffirmed a "buy" rating on shares of Royal Dutch Shell in a research note on Friday, July 27th. Finally, Morgan Stanley lowered Royal Dutch Shell from an "overweight" rating to an "equal weight" rating in a research note on Wednesday, August 1st.
NYSE:RDS.A opened at $63.00 on Friday. The stock has a market capitalization of $267.46 billion, a P/E ratio of 16.41, a price-to-earnings-growth ratio of 0.85 and a beta of 1.01. The company has a current ratio of 1.20, a quick ratio of 0.87 and a debt-to-equity ratio of 0.32. Royal Dutch Shell has a twelve month low of $60.53 and a twelve month high of $73.86.
Royal Dutch Shell (NYSE:RDS.A) last released its quarterly earnings data on Thursday, November 1st. The energy company reported $1.36 earnings per share for the quarter, missing the consensus estimate of $1.43 by ($0.07). The business had revenue of $101.55 billion during the quarter. Royal Dutch Shell had a net margin of 5.74% and a return on equity of 9.95%. The firm's quarterly revenue was up 30.6% compared to the same quarter last year. During the same quarter in the previous year, the business earned $0.50 earnings per share. Equities analysts predict that Royal Dutch Shell will post 5.57 EPS for the current fiscal year.
The company also recently declared a quarterly dividend, which will be paid on Wednesday, December 19th. Stockholders of record on Friday, November 16th will be paid a dividend of $0.799 per share. This represents a $3.20 dividend on an annualized basis and a dividend yield of 5.07%. The ex-dividend date of this dividend is Thursday, November 15th. Royal Dutch Shell's payout ratio is 83.33%.
Royal Dutch Shell Company Profile
Royal Dutch Shell Plc engages in the oil and natural gas production. It operates through the following segments: Integrated Gas, Upstream, Downstream, and Corporate. The Integrated Gas segment manages liquefied natural gas activities and the conversion of natural gas into gas to liquids fuels and other products.
Featured Article: Understanding Compound Annual Growth Rate (CAGR)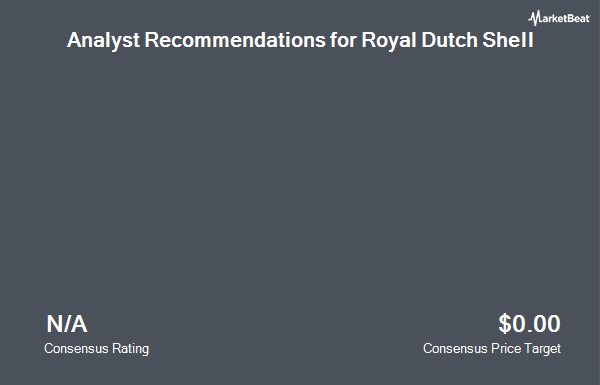 Receive News & Ratings for Royal Dutch Shell Daily - Enter your email address below to receive a concise daily summary of the latest news and analysts' ratings for Royal Dutch Shell and related companies with MarketBeat.com's FREE daily email newsletter.