Wizz Air (WIZZ) Lifted to Buy at HSBC
HSBC upgraded shares of Wizz Air (LON:WIZZ) to a buy rating in a research note released on Tuesday morning. HSBC currently has GBX 3,500 ($45.73) target price on the stock, up from their previous target price of GBX 2,000 ($26.13).
Several other equities analysts also recently issued reports on the stock. Morgan Stanley initiated coverage on shares of Wizz Air in a research note on Wednesday, September 5th. They set an equal weight rating and a GBX 3,775 ($49.33) price target for the company. Berenberg Bank initiated coverage on shares of Wizz Air in a research note on Tuesday, September 18th. They set a buy rating and a GBX 4,000 ($52.27) price target for the company. Citigroup dropped their price target on shares of Wizz Air from GBX 3,700 ($48.35) to GBX 3,450 ($45.08) and set a hold rating for the company in a research note on Thursday, August 30th. Societe Generale reaffirmed a buy rating on shares of Wizz Air in a research note on Friday, October 19th. Finally, Royal Bank of Canada reaffirmed a top pick rating and set a GBX 4,100 ($53.57) price target (up previously from GBX 3,800 ($49.65)) on shares of Wizz Air in a research note on Monday, October 15th. Three investment analysts have rated the stock with a hold rating, eight have given a buy rating and one has issued a strong buy rating to the company's stock. Wizz Air currently has a consensus rating of Buy and an average price target of GBX 3,537.36 ($46.22).
WIZZ stock opened at GBX 2,933 ($38.32) on Tuesday. Wizz Air has a 52-week low of GBX 1,597 ($20.87) and a 52-week high of GBX 3,825 ($49.98).
In other news, insider Barry Eccleston acquired 2,500 shares of the firm's stock in a transaction dated Thursday, November 8th. The stock was bought at an average cost of GBX 2,927 ($38.25) per share, for a total transaction of £73,175 ($95,616.10).
Wizz Air Company Profile
Wizz Air Holdings Plc, together with its subsidiaries, provides passenger air transportation services on scheduled short-haul and medium-haul point-to-point routes across Europe and the Middle East. The company operates through two segments, Airline and Tour Operator. The Airline segment operates under the Wizz Air brand.
Featured Story: What kind of dividend yield to CEF's pay?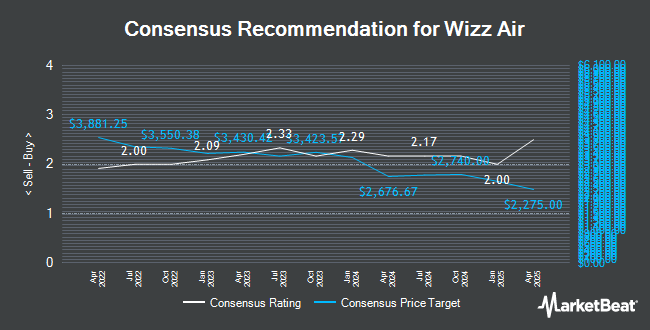 Receive News & Ratings for Wizz Air Daily - Enter your email address below to receive a concise daily summary of the latest news and analysts' ratings for Wizz Air and related companies with MarketBeat.com's FREE daily email newsletter.