Clive Watson Buys 7 Shares of Spectris plc (SXS) Stock

Spectris plc (LON:SXS) insider Clive Watson bought 7 shares of the company's stock in a transaction on Tuesday, January 8th. The stock was bought at an average cost of GBX 2,236 ($29.22) per share, with a total value of £156.52 ($204.52).
SXS stock opened at GBX 2,410 ($31.49) on Friday. Spectris plc has a 12 month low of GBX 2,225 ($29.07) and a 12 month high of GBX 2,869 ($37.49).
SXS has been the subject of a number of research analyst reports. Peel Hunt reaffirmed an "add" rating on shares of Spectris in a report on Tuesday. Bank of America raised shares of Spectris to a "buy" rating in a report on Monday, October 15th. Shore Capital reaffirmed a "hold" rating on shares of Spectris in a report on Tuesday, November 20th. HSBC dropped their target price on shares of Spectris from GBX 2,750 ($35.93) to GBX 2,250 ($29.40) and set a "hold" rating for the company in a report on Tuesday, October 30th. Finally, BNP Paribas raised shares of Spectris to an "outperform" rating and increased their target price for the company from GBX 2,550 ($33.32) to GBX 2,700 ($35.28) in a report on Tuesday, September 18th. One equities research analyst has rated the stock with a sell rating, seven have assigned a hold rating and seven have issued a buy rating to the company's stock. The company has an average rating of "Hold" and a consensus price target of GBX 2,752.86 ($35.97).
TRADEMARK VIOLATION NOTICE: This article was originally reported by TheOlympiaReport and is owned by of TheOlympiaReport. If you are accessing this article on another website, it was illegally copied and republished in violation of U.S. and international copyright and trademark law. The original version of this article can be accessed at https://theolympiareport.com/2019/01/12/clive-watson-buys-7-shares-of-spectris-plc-sxs-stock.html.
About Spectris
Spectris plc manufactures and sells measuring instruments and controls worldwide. It operates through four segments: Materials Analysis, Test and Measurement, In-line Instrumentation, and Industrial Controls. The Materials Analysis segment provides products and services, which enable customers to determine structure, composition, quantity, and quality of particles and materials during their research and development processes, when assessing materials before production, or during the manufacturing process.
Featured Article: SEC Filing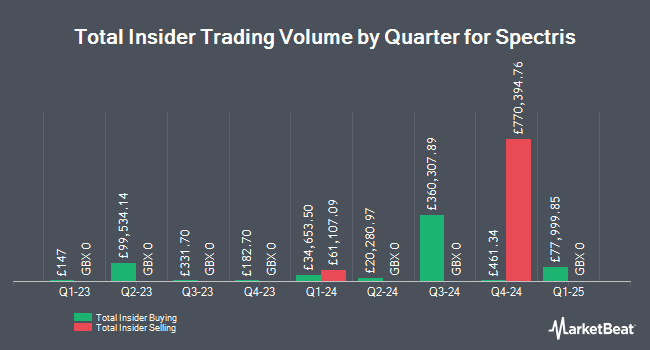 Receive News & Ratings for Spectris Daily - Enter your email address below to receive a concise daily summary of the latest news and analysts' ratings for Spectris and related companies with MarketBeat.com's FREE daily email newsletter.