CNX Resources (CNX) Set to Announce Quarterly Earnings on Thursday
CNX Resources (NYSE:CNX) will be announcing its earnings results before the market opens on Thursday, January 31st. Analysts expect the company to announce earnings of $0.27 per share for the quarter.
CNX Resources (NYSE:CNX) last released its earnings results on Tuesday, October 30th. The oil and gas producer reported $0.17 earnings per share for the quarter, missing analysts' consensus estimates of $0.19 by ($0.02). The firm had revenue of $397.10 million during the quarter, compared to analyst estimates of $376.23 million. CNX Resources had a return on equity of 3.73% and a net margin of 54.81%. The business's revenue for the quarter was up 38.3% on a year-over-year basis. During the same quarter last year, the company earned ($0.11) earnings per share. On average, analysts expect CNX Resources to post $1 EPS for the current fiscal year and $1 EPS for the next fiscal year.
CNX opened at $12.75 on Thursday. The company has a market capitalization of $2.74 billion, a price-to-earnings ratio of -79.69 and a beta of 0.85. The company has a debt-to-equity ratio of 0.44, a current ratio of 0.59 and a quick ratio of 0.57. CNX Resources has a 1-year low of $10.78 and a 1-year high of $18.37.
In other CNX Resources news, Director Bernard Lanigan, Jr. bought 100,000 shares of CNX Resources stock in a transaction dated Wednesday, December 19th. The stock was bought at an average price of $11.95 per share, for a total transaction of $1,195,000.00. The transaction was disclosed in a filing with the Securities & Exchange Commission, which can be accessed through
this link
. 2.00% of the stock is owned by corporate insiders.
CNX has been the subject of a number of research analyst reports. TheStreet upgraded CNX Resources from a "d+" rating to a "b" rating in a report on Tuesday, October 30th. ValuEngine upgraded CNX Resources from a "strong sell" rating to a "sell" rating in a report on Monday, January 7th. Zacks Investment Research upgraded CNX Resources from a "hold" rating to a "buy" rating and set a $16.00 target price for the company in a report on Wednesday, October 10th. Finally, MKM Partners initiated coverage on CNX Resources in a report on Wednesday, December 5th. They issued a "buy" rating and a $19.00 target price for the company. Three analysts have rated the stock with a sell rating, one has assigned a hold rating, three have given a buy rating and one has assigned a strong buy rating to the company's stock. The stock has a consensus rating of "Hold" and an average target price of $17.40.
ILLEGAL ACTIVITY NOTICE: This piece was originally published by TheOlympiaReport and is owned by of TheOlympiaReport. If you are accessing this piece on another site, it was stolen and reposted in violation of United States and international trademark & copyright legislation. The correct version of this piece can be accessed at https://theolympiareport.com/2019/01/24/cnx-resources-cnx-set-to-announce-quarterly-earnings-on-thursday.html.
About CNX Resources
CNX Resources Corporation, an independent oil and natural gas company, explores for, develops, and produces natural gas in the Appalachian Basin. As of December 31, 2017, it had 7.6 trillion cubic feet equivalent of proved natural gas reserves. The company also owns, operates, and develops natural gas gathering and other midstream energy assets in the Marcellus Shale in Pennsylvania and West Virginia.
Featured Story: Stock Split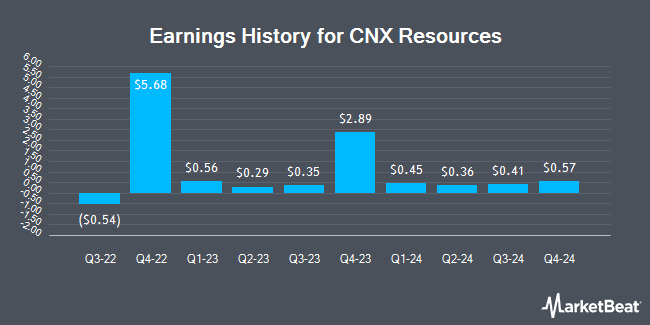 Receive News & Ratings for CNX Resources Daily - Enter your email address below to receive a concise daily summary of the latest news and analysts' ratings for CNX Resources and related companies with MarketBeat.com's FREE daily email newsletter.