Evans Bancorp (EVBN) Set to Announce Earnings on Thursday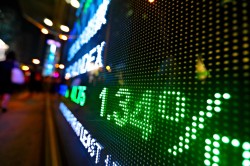 Evans Bancorp (NYSEAMERICAN:EVBN) will post its quarterly earnings results after the market closes on Thursday, January 31st.
Evans Bancorp (NYSEAMERICAN:EVBN) last released its earnings results on Thursday, October 25th. The bank reported $0.97 EPS for the quarter, beating analysts' consensus estimates of $0.86 by $0.11. The business had revenue of $16.85 million for the quarter.
EVBN opened at $33.94 on Thursday. Evans Bancorp has a one year low of $30.61 and a one year high of $49.23.
Separately, Hovde Group upgraded Evans Bancorp from a "market perform" rating to an "outperform" rating and set a $38.00 price objective for the company in a report on Wednesday, January 2nd.
In other Evans Bancorp news, CEO David J. Nasca bought 1,195 shares of the company's stock in a transaction dated Thursday, December 20th. The shares were purchased at an average cost of $32.54 per share, for a total transaction of $38,885.30. Following the transaction, the chief executive officer now directly owns 2,344 shares of the company's stock, valued at $76,273.76. The purchase was disclosed in a filing with the SEC, which is available at this hyperlink. Also, insider Robert G. Miller, Jr. sold 2,096 shares of the firm's stock in a transaction dated Friday, December 21st. The shares were sold at an average price of $33.50, for a total value of $70,216.00. Following the sale, the insider now owns 71,056 shares in the company, valued at $2,380,376. The disclosure for this sale can be found here. Insiders have acquired a total of 1,320 shares of company stock worth $43,346 over the last ninety days.
WARNING: "Evans Bancorp (EVBN) Set to Announce Earnings on Thursday" was first published by TheOlympiaReport and is the property of of TheOlympiaReport. If you are viewing this news story on another site, it was stolen and reposted in violation of international trademark & copyright law. The original version of this news story can be read at https://theolympiareport.com/2019/01/24/evans-bancorp-evbn-set-to-announce-earnings-on-thursday.html.
About Evans Bancorp
Evans Bancorp, Inc operates as the financial holding company for Evans Bank, N.A. that provides a range of banking products and services to consumer and commercial customers in Western New York. It operates through two segments, Banking Activities and Insurance Agency Activities. The company offers deposit products, which include checking and NOW accounts, savings accounts, and certificates of deposit.
Recommended Story: How to Trade Using Analysts Ratings
Receive News & Ratings for Evans Bancorp Daily - Enter your email address below to receive a concise daily summary of the latest news and analysts' ratings for Evans Bancorp and related companies with MarketBeat.com's FREE daily email newsletter.