FNCB Bancorp Inc (FNCB) CEO Buys $17,997.00 in Stock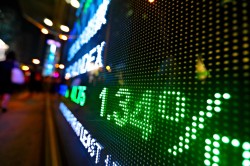 FNCB Bancorp Inc (OTCMKTS:FNCB) CEO Gerard A. Champi bought 2,571 shares of the company's stock in a transaction dated Friday, February 8th. The stock was purchased at an average price of $7.00 per share, with a total value of $17,997.00. The purchase was disclosed in a legal filing with the Securities & Exchange Commission, which can be accessed through this link.
Shares of OTCMKTS:FNCB traded up $0.02 during midday trading on Friday, hitting $7.52. The stock had a trading volume of 24,899 shares, compared to its average volume of 22,288. FNCB Bancorp Inc has a fifty-two week low of $7.43 and a fifty-two week high of $12.00.
The company also recently announced a quarterly dividend, which will be paid on Friday, March 15th. Stockholders of record on Friday, March 1st will be given a $0.05 dividend. This represents a $0.20 annualized dividend and a dividend yield of 2.66%. The ex-dividend date is Thursday, February 28th.
A hedge fund recently bought a new stake in FNCB Bancorp stock. Vanguard Group Inc acquired a new position in shares of FNCB Bancorp Inc (OTCMKTS:FNCB) in the third quarter, according to its most recent filing with the Securities and Exchange Commission. The institutional investor acquired 182,305 shares of the financial services provider's stock, valued at approximately $1,781,000. Vanguard Group Inc owned approximately 1.08% of FNCB Bancorp at the end of the most recent reporting period. Institutional investors own 0.25% of the company's stock.
COPYRIGHT VIOLATION NOTICE: "FNCB Bancorp Inc (FNCB) CEO Buys $17,997.00 in Stock" was first published by TheOlympiaReport and is owned by of TheOlympiaReport. If you are accessing this piece of content on another website, it was copied illegally and reposted in violation of United States & international copyright & trademark law. The original version of this piece of content can be read at https://theolympiareport.com/2019/02/08/fncb-bancorp-inc-fncb-ceo-buys-17997-00-in-stock.html.
About FNCB Bancorp
FNCB Bancorp Inc , formerly First National Community Bancorp, Inc is a bank holding company for First National Community Bank (the Bank). The Company's primary activity consists of owning and operating the Bank, which provides customary retail and commercial banking services to individuals and businesses.
Read More: Backdoor Roth IRA
Receive News & Ratings for FNCB Bancorp Daily - Enter your email address below to receive a concise daily summary of the latest news and analysts' ratings for FNCB Bancorp and related companies with MarketBeat.com's FREE daily email newsletter.