Semtech (NASDAQ:SMTC) Updates Q4 2020 After-Hours Earnings Guidance
December 4th, 2019 -
Comments Off

on Semtech (NASDAQ:SMTC) Updates Q4 2020 After-Hours Earnings Guidance
-
Filed Under
- by
Donna Brown
Semtech (NASDAQ:SMTC) updated its fourth quarter 2020
After-Hours earnings guidance on Wednesday. The company provided earnings per share guidance of 0.33-0.39 for the period, compared to the Thomson Reuters consensus earnings per share estimate of $0.39. The company issued revenue guidance of $130-140 million, compared to the consensus revenue estimate of $139.24 million.
A number of brokerages have recently commented on SMTC. BidaskClub lowered Semtech from a hold rating to a sell rating in a research note on Saturday, November 23rd. Wells Fargo & Co reissued an outperformer rating and set a $60.00 price target (down from $65.00) on shares of Semtech in a research note on Thursday, August 29th. BWS Financial lowered Semtech from a buy rating to a hold rating and cut their price target for the company from $70.00 to $50.00 in a research note on Friday, November 15th. Cowen cut their price target on Semtech from $56.00 to $54.00 and set an outperform rating on the stock in a research note on Monday, September 9th. Finally, Robert W. Baird set a $45.00 price target on Semtech and gave the company a buy rating in a research note on Monday, August 26th. One equities research analyst has rated the stock with a sell rating, four have issued a hold rating, seven have assigned a buy rating and one has issued a strong buy rating to the company. Semtech currently has an average rating of Buy and a consensus price target of $48.64.
Shares of Semtech stock traded up $1.05 during midday trading on Wednesday, reaching $46.79. The company had a trading volume of 588,227 shares, compared to its average volume of 555,726. The stock has a fifty day moving average price of $50.65 and a 200 day moving average price of $47.57. The company has a debt-to-equity ratio of 0.27, a current ratio of 4.10 and a quick ratio of 3.42. The firm has a market cap of $3.22 billion, a PE ratio of 35.18, a P/E/G ratio of 3.92 and a beta of 1.91. Semtech has a fifty-two week low of $39.54 and a fifty-two week high of $57.96.
In related news, EVP Asaf Silberstein sold 6,000 shares of Semtech stock in a transaction that occurred on Tuesday, November 5th. The stock was sold at an average price of $55.00, for a total value of $330,000.00. Following the transaction, the executive vice president now directly owns 50,653 shares of the company's stock, valued at $2,785,915. The transaction was disclosed in a legal filing with the SEC, which is available through
this hyperlink
. Also, VP Mark C. Costello sold 8,951 shares of Semtech stock in a transaction that occurred on Wednesday, September 11th. The stock was sold at an average price of $46.80, for a total value of $418,906.80. Following the completion of the transaction, the vice president now directly owns 3,090 shares in the company, valued at $144,612. The disclosure for this sale can be found
here
. Over the last ninety days, insiders sold 25,717 shares of company stock worth $1,262,791. 1.96% of the stock is owned by insiders.
Semtech Company Profile
Semtech Corporation designs, develops, manufactures, and markets analog and mixed-signal semiconductor products and advanced algorithms. The company provides signal integrity products, including a portfolio of optical data communications and video transport products used in various enterprise computing, industrial, and communications applications; a portfolio of integrated circuits for data centers, enterprise networks, passive optical networks, wireless base station optical transceivers, and high-speed interface applications; and video products for broadcast applications, as well as video-over-IP technology for professional audio video applications.
Featured Article: Capital Gains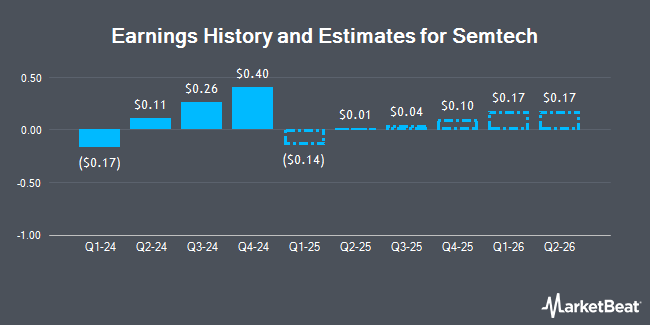 Receive News & Ratings for Semtech Daily - Enter your email address below to receive a concise daily summary of the latest news and analysts' ratings for Semtech and related companies with MarketBeat.com's FREE daily email newsletter.