Airtel Africa (LON:AAF) Shares Up 2%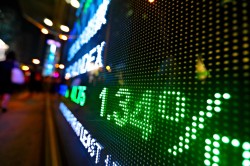 Airtel Africa Limited (LON:AAF)'s stock price shot up 2% on Monday . The stock traded as high as GBX 62.90 ($0.77) and last traded at GBX 60.80 ($0.75), 2,089,944 shares changed hands during trading. The stock had previously closed at GBX 59.60 ($0.73).
Several analysts have recently commented on AAF shares. JPMorgan Chase & Co. dropped their price objective on shares of Airtel Africa from GBX 66 ($0.81) to GBX 57 ($0.70) and set a "neutral" rating on the stock in a report on Friday, May 15th. Barclays reaffirmed an "overweight" rating on shares of Airtel Africa in a report on Thursday, May 14th.
The company has a market capitalization of $2.48 billion and a price-to-earnings ratio of 5.90. The company has a debt-to-equity ratio of 130.42, a current ratio of 0.67 and a quick ratio of 0.50. The business has a 50 day simple moving average of GBX 47.49 and a 200 day simple moving average of GBX 57.74.
The business also recently disclosed a dividend, which will be paid on Friday, July 24th. Stockholders of record on Thursday, July 2nd will be paid a $0.03 dividend. This represents a dividend yield of 6.35%. The ex-dividend date is Thursday, July 2nd. Airtel Africa's payout ratio is currently 48.54%.
About Airtel Africa (LON:AAF)
Airtel Africa Plc provides mobile telecommunication services to customers in Nigeria, East Africa, and rest of Africa. It offers services to approximately 99 million small, medium, and high-usage customers; mobile data services to 30 million customers; and mobile banking services. The company was incorporated in 2018 and is based in London, the United Kingdom.
Further Reading: Net Margin – Understanding the Different Kinds of Profit
Receive News & Ratings for Airtel Africa Daily - Enter your email address below to receive a concise daily summary of the latest news and analysts' ratings for Airtel Africa and related companies with MarketBeat.com's FREE daily email newsletter.