Inventiva S.A (IVA) Plans to Raise $103 Million in July 10th IPO
July 6th, 2020 -
Comments Off

on Inventiva S.A (IVA) Plans to Raise $103 Million in July 10th IPO
-
Filed Under
- by
Renee Jackson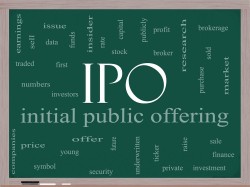 Inventiva S.A (IVA) plans to raise $103 million in an initial public offering (IPO) on Friday, July 10th, IPO Scoop reports. The company will issue 7,500,000 shares at $13.68 per share.
In the last twelve months, Inventiva S.A generated $11.2 million in revenue and had a net loss of $30.6 million. The company has a market-cap of $522.1 million.
Jefferies, Stifel and Guggenheim Securities served as the underwriters for the IPO and H.C. Wainwright, Roth Capital Partners and KBC Securities were co-managers.
Inventiva S.A provided the following description of their company for its IPO: "(NOTE: A public offering: Our ordinary shares are listed on Euronext Paris under the symbol "IVA." On July 3, 2020, the closing price of our ordinary shares on Euronext Paris was €12.16 per ordinary share, equivalent to a price of $13.68 per ADS, assuming an exchange rate of €0.8891 per U.S. dollar, based on the exchange rate on July 3, 2020.) We are a clinical-stage biopharmaceutical company focused on the development of oral small molecule therapies for the treatment of non-alcoholic steatohepatitis, or NASH, mucopolysaccharidoses, or MPS, and other diseases with significant unmet medical need. We have built a pipeline backed by a discovery engine with an extensive library of proprietary molecules, a wholly-owned research and development facility and a team with significant expertise and experience in the development of compounds that target nuclear receptors, transcription factors and epigenetic modulation.  ".
Inventiva S.A was founded in 2011 and has 88 employees. The company is located at 50 rue de Dijon 21121 Daix France and can be reached via phone at +33 3 80 44 75 00 or on the web at http://www.inventivapharma.com.
Receive News & Ratings for Inventiva S.A Daily - Enter your email address below to receive a concise daily summary of the latest news and analysts' ratings for Inventiva S.A and related companies with MarketBeat.com's FREE daily email newsletter.