United Parcel Service (NYSE:UPS) Releases Quarterly Earnings Results, Beats Estimates By $1.06 EPS
July 30th, 2020 -
Comments Off

on United Parcel Service (NYSE:UPS) Releases Quarterly Earnings Results, Beats Estimates By $1.06 EPS
-
Filed Under
- by
Mark James
United Parcel Service (NYSE:UPS) released its quarterly earnings data on Thursday. The transportation company reported $2.13 EPS for the quarter, topping the Thomson Reuters' consensus estimate of $1.07 by $1.06, MarketWatch Earnings reports. The firm had revenue of $20.46 billion for the quarter, compared to the consensus estimate of $17.42 billion. United Parcel Service had a return on equity of 152.81% and a net margin of 5.73%. The company's quarterly revenue was up 13.4% on a year-over-year basis. During the same quarter in the previous year, the business earned $1.96 earnings per share.
NYSE UPS traded up $18.25 during mid-day trading on Thursday, reaching $141.93. The stock had a trading volume of 1,256,456 shares, compared to its average volume of 3,026,026. United Parcel Service has a 1 year low of $82.00 and a 1 year high of $125.31. The stock has a market cap of $122.31 billion, a PE ratio of 28.94, a price-to-earnings-growth ratio of 2.93 and a beta of 0.84. The company has a fifty day moving average price of $112.27 and a 200 day moving average price of $103.38. The company has a debt-to-equity ratio of 8.06, a current ratio of 1.22 and a quick ratio of 1.22.
In related news, CEO Carol B. Tome bought 10,100 shares of the firm's stock in a transaction on Friday, May 29th. The stock was acquired at an average cost of $99.33 per share, for a total transaction of $1,003,233.00. Following the purchase, the chief executive officer now owns 13,036 shares in the company, valued at $1,294,865.88. The acquisition was disclosed in a filing with the SEC, which is available through this link. 0.57% of the stock is owned by insiders.
Several research analysts have recently commented on UPS shares. Stifel Nicolaus decreased their price objective on United Parcel Service from $104.00 to $102.00 and set a "buy" rating on the stock in a report on Wednesday, April 29th. Citigroup boosted their price target on United Parcel Service from $105.00 to $115.00 and gave the company a "neutral" rating in a report on Monday. Goldman Sachs Group restated a "buy" rating and set a $120.00 price target on shares of United Parcel Service in a report on Thursday. Oppenheimer restated a "buy" rating on shares of United Parcel Service in a report on Thursday. Finally, KeyCorp restated a "hold" rating on shares of United Parcel Service in a report on Monday, April 20th. Four equities research analysts have rated the stock with a sell rating, nine have given a hold rating, ten have assigned a buy rating and two have assigned a strong buy rating to the stock. United Parcel Service presently has an average rating of "Hold" and a consensus price target of $114.33.
About United Parcel Service
United Parcel Service, Inc provides letter and package delivery, specialized transportation, logistics, and financial services. It operates through three segments: U.S. Domestic Package, International Package, and Supply Chain & Freight. The U.S. Domestic Package segment offers time-definite delivery of letters, documents, small packages, and palletized freight through air and ground services in the United States.
Recommended Story: Cost of Equity For A Business, Investors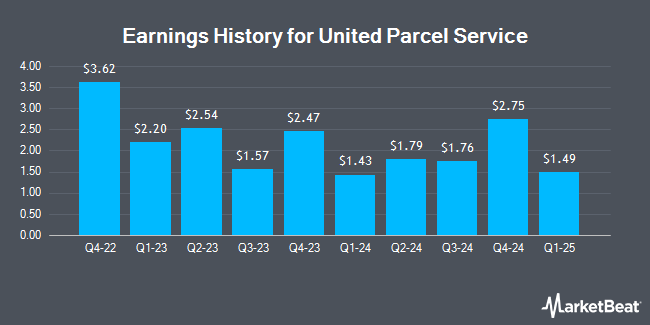 Receive News & Ratings for United Parcel Service Daily - Enter your email address below to receive a concise daily summary of the latest news and analysts' ratings for United Parcel Service and related companies with MarketBeat.com's FREE daily email newsletter.